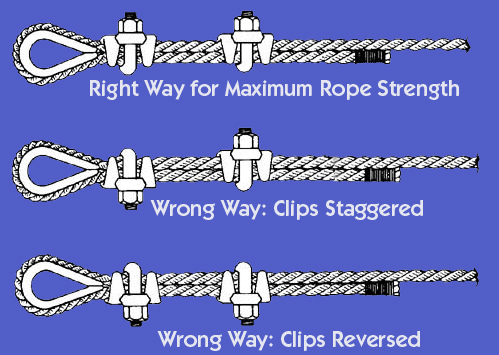 Recommended Method of Application of Cable Clips

1. Turn back the specified amount of rope from the thimble. Apply the first clip one base width from the dead end of the wire rope. Place the U-bolt over the dead end; the live end rests in the clip saddle. Tighten the nuts evenly to the recommended torque.

2. Apply the next clip as near the loop as possible.Turn on nuts firm, but do not tighten.

3. Space additional clips, if required, equally between the first two. Turn on nuts, take up any rope slack, and tighten all nuts evenly to the recommended torque.

4. Apply the initial load and retighten the nuts to recommended torque. The rope will stretch and shrink in diameter when loads are applied. Inspect the clips periodically and retighten.

Recommended torque values are based on the threads being clean, dry and free of lubrication.

IMPORTANT: Failure to make termination in accordance with instructions, or failure to check the recommended torque periodically and retighten, will cause a reduction in the efficiency ratings of the clips.
CABLE CLIP USAGE

Cable Size
in Inches

Minimum
Number
of Clips

Amount of Rope
Turnback/Inches

Torque in
Ft. Lbs

1/8

2

3-3/4

4.5

3/16

2

3-3/4

7.5

1/4

2

4-3/4

15

5/16

2

5-1/4

30

3/8

2

6-1/2

45

7/16

2

7

65

1/2

3

11-1/2

65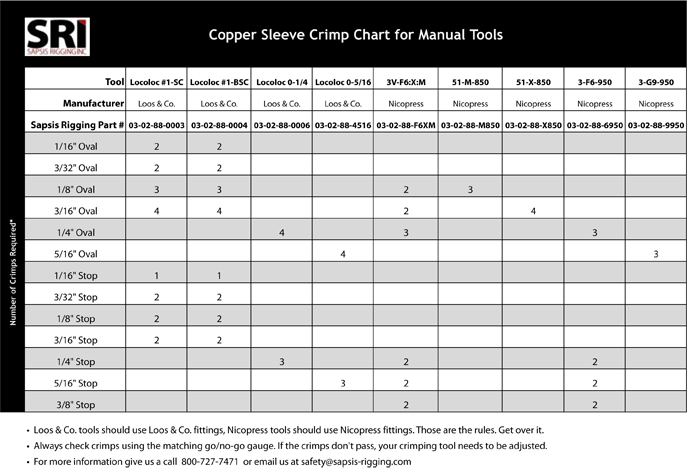 Click HERE for full size Swage Chart PDF